Spice and Wolf VR (狼と香辛料VR, Ōkami to Kōshinryō VR?) is a VR animation developed and produced by SpicyTails for PC, PlayStation 4, and Nintendo Switch. The game first released for PC on June 3, 2019, and is available in Japanese, Chinese, and English.
Publisher's Description
[
]
Kraft Lawrence is a traveling merchant who meets Holo, a beautiful woman who can transform into a wolf.
As they travel together they face many hardships, such as having to walk in the rain. In order to avoid the sudden downpour, Holo and Lawrence take shelter in an old, abandoned water mill in the woods.
They huddle around a small fire and enjoy a slightly strange but relaxing time together. You are able to share that time together with them.
Development
[
]
Following the success of their first VR experience, Project LUX (2018), SpicyTails launched a massively successful crowdfunding campaign to complete their next project, Spice and Wolf VR, raising their entire goal within the first 24 hours. By the end of the 40-day campaign, they had raised a total of ¥72,457,073‬ to put towards development.[1]
Reception and Legacy
[
]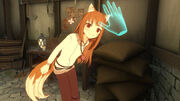 The game's rating is very positive on Steam, with fans impressed by the faithful reproduction of the atmosphere of the original work. However, the high price tag left many others with a bitter aftertaste, remarking on how the episode-length animation contained little in the way of interactivity.
A sequel, Spice and Wolf VR 2, was released on December 9, 2020.
External Links
[
]
References
[
]